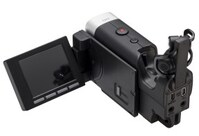 The new product that had everybody excited at the 2014 Winter NAMM tradeshow in Anaheim was the Zoom Q4 camcorder, intended to compete in the "head-cam, personal POV, miniature camera" market.
The Q4 is small and lightweight. It will fit within the palm of your hand (or in your shirt pocket). List price is $374, but most dealers offer it for the MAP of only $299.
A couple of the features that caught everyone's eye was the more traditional ergonomics of the unit, along with the ability to record 1080/30HD video MPEG-4 AVC/H.264 (MOV)) along with professional grade audio up to 24bit/96k!
This content is for current subscription members. Please login below or subscribe.