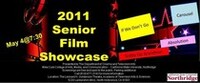 An important part of the Film Production Program here at California State University Northridge is the production of four or five senior thesis short films every semester. There are approximately 45 students at each semester level in the Film Program, so that each of the selected film projects consists of a group of around 10 people making up the key positions. My role, as a Production Faculty advisor on these projects, is to meet with the Production Sound Mixer for each film and to "sign off" on their planned workflow. Here is what I explain to them.
To: All Senior Film Project Teams
From: Fred Ginsburg CAS
Re: Production Sound
Very important: If you are planning to shoot on a STUDIO LOT, you are NOT ALLOWED to use any wireless device (radio mics, walkie-talkies, remote focus, video assist, etc.) without the express permission of the studio sound department! The studios take frequency coordination very seriously; the use of non-approved RF frequencies may jeopardize other film companies working on the same lot.
Failure to adhere to studio policies regarding RF transmitters may result in your being immediately kicked off of the lot, along with financial penalties.
On the plus side, many studio lots are willing to assist you with your wireless needs, and may rent or loan you radio mics, walkies, and other stuff from their inventory.
---
So far I have only been in contact with a couple of the film teams. All of the films are reminded that you are required to not only meet with me to discuss your Production Sound plans, but that those plans have to be approved and signed off!
To date, I have only signed off on one crew. The others have shown me their rental quotes, but not their complete sound packages. They have been told to organize their plans, and to meet with me again after they get their "act" together.
---
Here is what I expect.
To begin with, I want to meet with the Production Sound Mixer, not just someone sent in proxy. In the real world, the Sound Mixer is in charge, and is responsible for everything.
You are welcome to meet with me as often as needed to discuss your project, but I expect you to have done your homework. Do not just wave a rental quote at me and expect me to be content.
I will provide guidance, and steer you in the right direction. I will not act as a one-stop reference center and answer basic questions that you should have looked up on your own. Yeah, I know the differences between the various recorders and mixers; but you need to learn how to look up those features yourself. Do as much research as you can. If you are still stumped, then pick up the phone and ask me for help.
If you are showing a particular piece of equipment (probably suggested by the rental clerk) – you need to demonstrate that you have done your research and understand the features and characteristics of every item on your equipment list. Have you looked it up on the internet and read the spec sheets and owner's manual? Have you gone to the rental facility and listened to the mics, if you are not already familiar with them? Have you played with the recorder and mixing panel?
Do not just write down the names and models of equipment without understanding WHY you are selecting a particular item. Do not wait until the day before your shoot to see or hear an item for the very first time. By then, it may be too late to make changes.
Have you planned out your digital workflow? To begin with, what is the recording format that you will be using? 16 bit or 24 bit? What frame rate for the timecode? How many tracks will you need?
Do not tell me that your Producer is going to check with Jan or Prof Hoggan. As the Production Mixer, it is your responsibility to make sure that you are using the correct settings!
Is there a timecode slate in your package? (Yeah, one team forgot that they even needed one.) What about the connecting cables to jam the slate to your recorder? Make sure that you have all of the necessary connectors at both ends.
Recorder format. How many tracks do you need for the production mix and any iso tracks that you plan on recording. Two track, four track, eight (plus) tracks?
Mixing panel. Will your choice of mixing board provide the necessary outputs for: production mix; iso tracks (direct outs,or pre-fader Aux outs); boom monitor; director & Script monitor? What are the features of the board? Aux outs, pre or post fader? EQ? Direct outs (how many, mic or line level) How big is the board physically? Will it fit on your cart? How much power does it require?
Monitoring. Is your boom duplex cable wired for mono or stereo? If stereo, do you have a mono adapter? Where are you going to plug in your duplex cable? Hopefully, Aux Out. How is the Director and Script Supervisor going to hear? Are you using a Comtek Wireless System? How and where will you connect it to the board?
Boom mic selection. What specific microphones will you be using, and why? Do you have the required shockmounts, windscreens, zeppelins?
Radio mics and lavaliers. Not just make and model of the transmitter/receivers, but what specific lavalier capsules are you going to use? Have you ever listened to them? Are they proximity or transparent?
Powering. When AC is not available, how are you going to power up your gear. Don't just assume that there will be stable generators; more times than not, the power from many generators can be erratic and cause audio hum/buzz. Have some sort of battery alternative for your recorder and mixer, such as a high quality inverter/battery system. And don't forget to test it out with your mixer, to make sure that it is clean and will last several hours. Or, have a portable, battery powered mixer that you can use in a pinch.
---
Understand, I am not trying to be overly demanding nor harsh. I want you all to succeed in your endeavors. These thesis films are the most important and most expensive projects that you have undertaken to date, and may likely be the most elaborate projects that you will work on for the next few years of your careers.
These films are your demo reels and your calling cards. The awards that they may win are your ticket to the big leagues. They are not simple student exercises that we do in class, where catastrophic mistakes are only good for a group laugh. These projects have to be executed to the highest of standards.
It is your money, your time, and your effort. Make it count. These films are more important than your diplomas.
From the keyboard of
Fred Ginsburg CAS PhD MBKS
Adjunct Production Faculty
California State University Northridge - Dept of Cinema Television Arts, Film Program