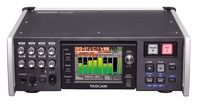 Some great news from our friends at Tascam. Improved features on the HS-P82 multitrack recorder. And, lower pricing! Also, an XLR input adapter for your iPhone, etc.
Many of you have noticed that I have re-posted my Users Guide for the Tascam HS-P82 portable multi-track recorder here on the Featured Articles page of my website. That is because this is an improved version of my original draft, with some minor changes. To begin with, I have replaced my homemade desktop photos of the touchscreen display menu's with actual screenshots created within the Tascam itself, thanks to some special software so kindly provided to me by the Tascam engineering team. Sharper pictures, with no more keystoning or focus issues. Way better looking!
However, the new version of my Users Guide also introduces the latest feature now available on the HS-P82, namely the capability of mirror recording to two compact flash cards simultaneously. That means that you have insurance in the event of a card failure. It also means that you have a spare card that you can turn in for dailies and still keep a copy for yourself.
True, it is rare that post-production would get one of your original compact flash cards. More likely that your workflow would consist of pulling the card from the recorder and copying the files over to a hard drive in your laptop. From the laptop you would copy the files over to some portable media, such as a data DVD or flash drive, in order to submit them for dailies. You would then reformat your original compact flash cards so that they would be ready for immediate recording in the Tascam.
Yes, that means that you would need to stock at least four compact flash cards to use on location (two in the recorder at any time, and two ready for a swap out). Of course, as a professional, you would likely have more than four on hand.
I promised you good news about pricing. Tascam has dramatically LOWERED the dealer cost of the unit, so that street price for the HS-P82 can be found from reputable dealers for around $3500. (December 2011). That makes this recorder super affordable. Add several hundred for the companion fader controller, and you have yourself a fully professional, state of the art, 8-track/10-track timecode recording package. That means that for what you were budgeting to spend on a four track recorder, you can now have a complete eight track unit (actually a ten track unit, since the individual 8 inputs can mixdown to master left/right tracks).
Engineers at Tascam are looking at inexpensive solutions to being able to access those tracks (9/10) via an external A/D adapter box. That would come in handy if you are feeding the Tascam from an external mixing console, rather than using the companion fader controller.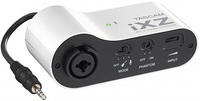 Tascam also showed me their new iXZ adapter for use with the iPhone, iPod, etc. This cool gadget is an XLR and 1/4-inch mic/line input that also provides true Phantom powering in order to use good condenser microphones in order to record on your i-device.It plugs into your headphone/mic jack on the iPhone, and has its own headphone port so that you can still listen. Phantom power is derived from two AA batteries (yes, you can get close to 48v Phantom output, since most condenser mics draw very little amperage). The iXZ sells for around $50 or $60 bucks. Tascam will be coming out with a software app to use for recording, or you can just use any of the existing audio apps that are out there currently.
A friend of mine turned me on to TwistedWave, which sells for $10 bucks at the App Store. It can record in 16bit/44.1 WAVE, MP3, and other popular formats. (I do wish it could do the more professional 48k, but I guess it was written for the popular home CD market). The software includes a simple editor, lots of signal processing & effects, and several options for getting the file over to your real computer. I have to admit that I am pretty impressed.
Hope to see you all at the upcoming NAMM Show in Anaheim, January 19-21, 2011.