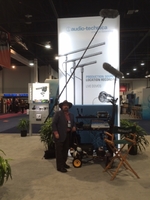 It was fun being the center of attention in the Audio Technica booth during NAB 2015. Hard work, though. Brought my directors chair and barely spent any time in it. Folks kept coming up and asking questions about shotguns, lavs, System 10 wireless, and production sound in general. They loved that my soundcart was fully functional and that they could play with the booms, or see how we do attenuated dual mono live mixes concurrent with ISO's.
Unlike past years, where Audio Technica created a fixed schedule of presentations by noted sound authorities -- the plan for 2015 was to just put things in place and to let the sessions happen spontaneously. Fred was on station at the booth every day, so that attendees were free to stop by when they could to ask advice, or request hands-on, personalized instruction about anything production sound related.
People loved being able to actually handle the various booms, or walk around the floor with the System 10 wireless to see how well it could survive all of the RF interference found in the NAB exhibit hall.
As expected, small groups often congregated around these one-on-one's, tranforming them into ad hoc workshops. I lost count how many times I demo'd lav rigging techniques, or explained about M-S stereo miking.
Displayed on the soundcart, realistically rigged and fully functional, were Fred's favorite picks of Audio Technica shotguns, lavs, radios, dynamics, and stereo mics. Included was a 4071-L long shotgun encased in a Rycote blimp, two 4073 short shotguns including one in a blimp ,the 4051 cardioid low echo shotgun, 897 ENG shotgun; 4001/4002 interview dynamic handhelds; 899, 803,896. 830 lavs; some M-S stereos; System 10 wireless; along with any mic that was on display elsewhere in the booth.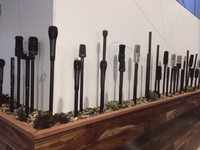 Audio Technica gave new meaning to the term "plant mic:. And yes, all of these mics were real and fully functional!
Shotguns were mounted on K-Tek boompoles. Rycote wind protection was on display. Recorders included a TASCAM HS-P82 multi-track and their new DR-70 four-track.
A Presonus 16.4.2 digital mixing board allowed monitoring.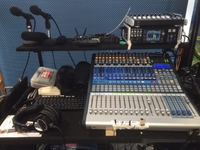 We used the soundcart approach so that we could demo the use of Audio Technica product as it would be used on the set, often with third party supporting gear.
It was great to see so many of you at the booth. Fellow educators in for the BEA Conference, my sound mixer peers, and so many familar faces from past years.
Student Filmmaker Magazine gave out thousands of copies of their NAB issue, which included one of my articles (Audio Metering) on page 20. I was shocked that some people actually wanted me to autograph some of them!
Looking forward to seeing you all at the next tradeshow event!
Check out my interview on the Audio Technica blog.http://blog.audio-technica.com/