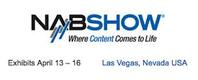 Once again, Fred Ginsburg CAS PhD MBKS, along with other industry experts, will be answering questions, conducting demo's, and instructing myriad workshops on behalf of Audio Technica at this year's upcoming NAB 2015 tradeshow. Fred and his decked out soundcart will be on hand all week long, Monday through Thursday, at the Audio Technica booth located around mid way in the Central Hall.
Unlike past years, where Audio Technica created a fixed schedule of presentations by noted sound authorities -- the plan for 2015 is to just put things in place and to let the sessions happen spontaneously. The experts and hardware will be at the booth every day, so that attendees are free to stop by when they can and not feel controlled by their watches. Individuals can ask advice, or request hands-on, personalized instruction about anything production sound related.
We know how NAB goes. Inevitably, small groups will congregate around these one-on-one's and soon it will transform into an ad hoc workshop. But it will be fun this year to let the crowds dictate the topics and content; as well as the scheduling. It has worked out very well during prior tradeshows, so we look forward to this unstructured approach.
Displayed on the soundcart, realistically rigged and fully functional, will be Fred's favorite picks of Audio Technica shotguns, lavs, radios, dynamics, and stereo mics. Included will be the 4071-L long shotgun, 4073 short shotgun, 4051 cardioid low echo shotgun, 897 ENG shotgun; 4001/4002 interview dynamic handhelds; 899, 898, 803,896. 830 lavs; some M-S stereos; System 10 wireless; and whatever else suits our fancy. Of course, we can also play with any of the inventory in the official display area.
Shotguns will be mounted on K-Tek boompoles. Rycote wind protection will be on display. Recorders include a TASCAM HS-P82 multi-track and their new DR-70 four-track. A Presonus 16.4.2 digital mixing board will allow monitoring. We use the soundcart approach so that we can demo the use of Audio Technica product as it would be used on the set, often with third party supporting gear.
Stop by. Ask questions. Learn and practice on the equipment. It is all about the hands-on. Make it your hands.