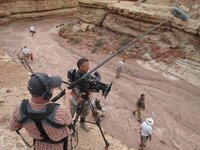 There are four basic elements of a motion picture or video soundtrack: narration, music, sound effects, and dialogue.
Narration can be recorded sync to picture, where the narrator comments on what is being projected, as it is being projected. The other method, which is the preferred way of doing things, is to record the narration wild from a script and to edit the lines in opposite the appropriate footage.
This content is for current subscription members. Please login below or subscribe.