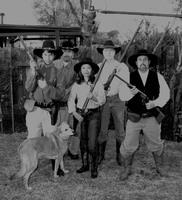 Welcome to our new website! For those of you who were expecting to see Equipment Emporium -- it has evolved into a new name, and an improved website. Membership subscriptions for the old site have been transferred over and should work seamlessly, but feel free to contact us in the event that you have any issues logging on with your old username and password.
The new site has lots to offer. Better navigation, a good search engine, a discussion forum, and Fred's Blog. For students and folks new to sound, we have created a virtual textbook in the form of an organized reading list -- with links to key articles. It can be found in the pulldown section for College Classes.
Although it is not a complete index of everything on the site, the Reading List can serve as a quick way to find your favorite article. Or, just use the search engine.
Contained in the College Classes tab are shortcuts to our lecture presentations (PowerPoints) which can be instantly played in their own viewer, or downloaded.
Instructors and Educators should take a look at how Fred has integrated the site with his curriculum. Students have easy access to the syllabus, reading list, and lecture notes. Over in the Forum, there is a section dedicated to each class. Professor Ginsburg can post weekly messages to his students, and they are expected to "sign in" by means of a reply. Students can also post questions, or messages to the class. Even though Fred does have access to the campus Moodle -- FilmTVsound.com is preferable as it is better suited for the course needs, and is not subject to administrative scrutiny. Any fellow Instructors are encouraged to contact us regarding adding their courses to our site. (The service is included with your Instructor Membership.)
Everyone is encouraged to use the Forum, comment about the Blog, and to submit articles, equipment reviews, or even suggestions about future content. This website is for the Community. It is NOT controlled by the threats of advertisiers; it is not slanted to motivate direct sales. It is about presenting and explaining the craft of Production Sound Recording for Film and Video Production.
---
So what did happen to Equipment Emporium?
The original Equipment Emporium was a sales & rental facility that catered to the needs of the Production Sound community for nearly two decades. When the economy collapsed in 2008, it took its toll on small business. Equipment Emporium Inc. closed their doors for good in early 2009.
The sales website was taken down. In its place appeared, "The Craft of Production Sound: Online Coursebook". Fred's new company continued the same domain name as Equipment Emporium, since it was so well known for its repository of instructional articles -- but with a whole new misson, namely that of Education.
Now that a lot of calendar pages have turned since the closing of Equipment Emporium Inc. -- it is time to say goodbye to the past and to move on.
We are officially FilmTVsound.