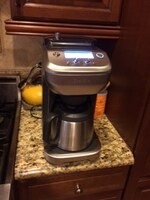 Everyone is this business knows that Hollywood is fueled by coffee.
For nearly a year, our home office has been satisfied by our Breville Grind Control coffee maker that we pruchased at our local Williams-Sonoma (in the Westfield "Topnaga" Mall @ Canoga Park CA). We are foodies, amateur chefs, and professional bloggers/filmmakers for some of the major cooking & travel media.
Up until recently, our experience with the Breville unit has been fantastic. It grinds the beans, perfectly heats the water, infuses the ground beans, and delivers barrista grade coffee by the cup or by the pot full. Well worth the $300 price tag! But all of a sudden, the firmware hiccupped and the unit began malfunctioning.
Customer support at Breville suggested that we bring the unit back to Williams-Sonoma. We did, and were braced for the usual corporate retailer rebuffs and fine print excuses. Instead, we were greeted by a super friendly and understanding staff and store manager. She took immediate care of us, and replaced the defective unit without a hassle! The staff even offered espresso and freshly baked snacks while we waited.
In these days of big box stores and greedy corporate policies, it was refreshing to see a sales team who really cared and were willing to help. Williams-Sonoma made us feel like CLIENTS and not just customers!
PS - They even found some Henckels Zwilling (Twin Pro) cutlery in the backroom that was no longer featured; and sold it to me at a sale price!