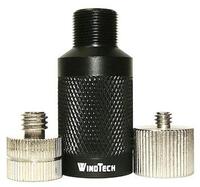 I am happy to announce that WindTech Audio (aka Olsen Audio) has finally made one of my little wishes come true. For years, many of us have struggled with the problem of how to utilize an inexpensive painters pole for use with pro audio equipment. Now, for under $20 retail, you can buy an adapter system specifically suited for that purpose.
Printed below is their product announcement. Please note that FilmTVsound.com is not a dealer; and we were not compensated in any way to run their announcement! We have chosen to re-print it because these adapters are such a great idea.... and I only wish that someone had made these sooner!
The basic adapter is designed to screw over that odd-ball thread found on common painters (extension) poles that you can purchase cheaply at any hardware supplier. It converts the 3/4-5 painters thread to a 5/8-27 normal mic stand thread.
You can order the PPA-02* (paint pole adapter) with a set of two adapters to convert the 5/8-27 to 3/8-16 (normal boompole thread) or to 1/4-20 (consumer camera thread).
You could also order the PPA with a ball socket 1/4-20 thread for use with GoPro and similar sized mini-cams.
A toast to Craig Olsen and WindTech! You can order these adapters from your favorite audio house.
---
PPA Series of Extension Pole Adapters
The PPA-01, PPA-02 and PPA-03 adapters are designed to give both Audio and Photo/Video professionals
a new cost effective way to extend the height of an antenna, camera or microphone. This product concept was
brought to us by a network audio engineer that was looking for an easy cost effective solution to get their
shotgun microphones to a 15' height on a stationary pole.
The PPA Series from WindTech® will fit most standard extension / painters type poles
(and even some broom handles) available at most local hardware and home improvement
stores such as Ace, Home Depot and Lowe's.

Tested Extension Poles include; Linzer Pro Everlock, Wooster Sherlock Pole, Mr. Longarm, Unger Pro Line,
Lowe's Quickie Pro Pole and the Home Depot 5' Extension Pole.

PPA-01: Acme 3/4"-5 Female to 5/8"-27 Male Microphone Thread
*PPA-02: Acme 3/4"-5 Female to either 3/8"-16 (M-1) or 1/4"-20 (M-12) Male Adapters (included)
PPA-03: Acme 3/4"-5 Female to 1/4"-20 Male (CM-01) Ball Socket Adapter (included)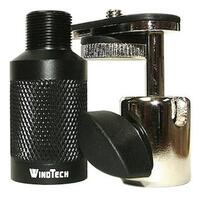 PRICING
PPA-01: MSRP $19.99 / MAP $15.99
PPA-02: MSRP $26.99 / MAP $19.99
PPA-03: MSRP $33.99 / MAP $26.50
All WindTech® Windscreens,
PopGard's and Mic-Muff's are
Made In America!
Olsen Audio Group, Inc.
7845 East Evans Road
Suite "E"
Scottsdale, AZ 85260-2919
480-998-7140
Fax: 480-998-7192
http://www.olsenaudio.com