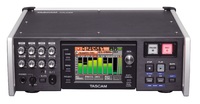 I have just completed an updated version of my Users Guide to the Tascam HS-P82 for Film & Video Applications v1.20 that reflects the changes and improvments brought about by firmware version v1.20.
With Winter NAMM 2013 coming just around the corner, the folks at Tascam asked me to work on a new edition of my popular users guide for their amazing filed recorder. The new version incorporates the significant improvments provided by the recently released firmware, along with updated screen shots of the menu's and improved explanations for the novice.
As always, the Users Guide is absolutely free, and can be downloaded from the Tascam website or right here: Users Guide to the Tascam HS-P82 for Film & Video Applications v1.20
This is a very useful guide and educational tool, since not only does it address HOW to operate the recorder, but also explains the best settings to use and how things are done in the real world on film sets.
Tascam has asked me, once again, to be available during the NAMM Show at their booth to demo and answer questions about this portable field recorder and production sound for the movies.It is interesting to note that many of the changes in v1.20 came about as a result of talking with end users at last year's NAMM Show.
I will be on hand all day Thursday, Saturday, and Sunday of the show (Jan 24-27 2013 in Anaheim CA); and after lunchtime until closing on Friday Jan 25. Turns out that Friday is the first day of my sound class at Calif State Univ Northridge -- and we professors are not supposed to miss the first class!
That same week I will also be down near Anaheim for the start of Chapman University's spring semester. Beginning that Tuesday, I kick off teaching a graduate level course in Production Sound for their film department.