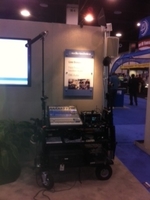 As I write this, we are just one week away from NAB 2012. Once again, I will be at the Audio Technica booth all week, conducting free workshops a few times each day.
The two scheduled topics that I will be covering are: the multi-track workflow for features & episodic TV; and selection & rigging of lavaliers. In addition to my presentations, there will also be a presentation by Steve Savanyu about audio for DSLR; and presentations by Robert Bigelow who is the sound mixer on HBO's Treme.
In addition to covering the Audio Techncia microphone product line, I will also be displaying some very cool equipment by Presonus, Tascam, K-Tek, and Rock N Roller Multicart. Microphones are not used in a void; they have to interface with an entire recording package. So, my demo soundcart will represent state of the art gear that I like to use on location. (Photo shown is from last year's NAB.)
During the last NAMM show in Anaheim, I had a chance to meet and speak with Gary Dahl, the founder and owner of the Rock N Roller Multicart company. He was very interested in the modifications that I had made to his basic cart, and asked me if I would help him to design a cart intended for film/video production. Together we came up with a plan for a large, 24 by 36 top shelf that included a 10 by 36 hutch. That new Multi Media Workstation shelf kit (or whatever they finally decide to name it on the brochures) can fit on any of their larger cart frames to make it an extremely viable soundcart, video cart, or mobile workstation. Come by and check it out. I do not have the final pricing as of yet, but Gary assures me that it will be extremely affordable. I am guessing around $300-ish for the all terrain R12 with the new shelf system? That is a mere fraction of what one would expect to pay for (the other popular brand).
We will also be showing the Presonus 16.4.2 digital mixing board, connected up to the Tascam HS-P82 8+2 multitrack portable timecode recorder.
Microphones hooked up to the system will include the BP4071 condenser long shotgun, the BP4073 condenser short shotgun, the AT4051 condenser cardioid, the AT897 ENG shotgun, and a wide sampling of lavaliers, plant mics, handhelds, and stereo. You can listen to the mics, boom with them, and give them a good workout. The soundcart will be fully operational!
Here is the link to the official Audio Techncia press release of the event. http://www.audio-technica.com/cms/news/a60bf48cb09409aa/
FOR IMMEDIATE RELEASE
.: Audio-Technica Holds Presentations by Industry Veterans at NAB :.
— Broadcast audio veteran Dr. Fred Ginsburg, TV audio engineer Robert Bigelow and Audio-Technica's Steve Savanyu will impart practical information on broadcast recording and microphone techniques —
Stow, OH 03-26-2012 – This year at NAB, on Monday, Tuesday and Wednesday (April 16-18, 2012), A-T's booth C3010 will host five 30-minute audio instructional sessions throughout the day.

Dr. Fred Ginsburg, renowned industry veteran and specialist in production sound recording for motion pictures and video, will conduct two sessions each day. The first session will focus on microphone techniques and applications used for episodic television with a focus on multi-track recording, and the second session will be about techniques for rigging and attaching lavalier microphones to actors for film and video production.

Robert Bigelow, audio engineer for HBO's Tremé will also present two sessions. First he will share his experiences of recording live music for broadcast on Tremé, and later provide a better understanding of Mid-Side stereo recording.

Steve Savanyu, Audio-Technica Director of Educational Services, will offer instructions on selecting and using microphones with DSLR cameras, including single- vs. dual-system recording.

These Audio-Technica instructional sessions will be held in NAB booth C3010 all three days (April 16-18, 2012) as follows:

10:00am—10:30am
Microphone Techniques for Episodic Television and Features, by Dr. Fred Ginsburg

Microphone techniques and applications used for television with a focus on multitrack recording.

11:00am—11:30am
Microphone Techniques for Digital SLR (single lens reflex) Cameras, by Steve Savanyu

Selecting and using microphones with DSLR cameras, including single vs. dual system recording.

1:30pm—2:00pm
Rigging Lavaliers and Wireless Microphones for Film and Video Production, by Dr. Fred Ginsburg

Techniques for rigging and attaching lavalier microphones to actors.

2:30pm—3:00pm
Recording Live Music for Broadcast, by Robert Bigelow

Robert Bigelow, audio engineer for HBO's Tremé, shares his experience.

3:30pm—4:00pm
Mid-Side/Stereo Miking Demystified, by Robert Bigelow

Get a better understanding of Mid-Side stereo recording.


For more information, please visit www.audio-technica.com.

Celebrating 50 years of audio excellence worldwide, Audio-Technica is a leading innovator in transducer technology, renowned for the design and manufacture of microphones, wireless microphones, headphones, mixers, and electronics for the audio industry.

—For more information on the complete range of Audio-Technica products, contact Karen Emerson, Audio-Technica U.S., Inc., 1221 Commerce Drive, Stow, OH 44224. Tel: (330) 686-2600; Fax: (330) 688-3752; Web: www.audio-technica.com