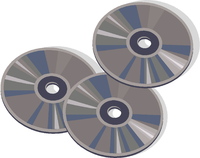 Every semester, students submit audio projects to me in the wrong format.

Professional recordings are made in the .WAV or .BWF (broadcast wave file) formats. Those are the formats that digital audio recorders use for original recordings.
They can be single track or multiple track, 16 bit or 24 bit, and any sampling rate imaginable (48k being the most common). The .BWF format consists of the .WAV format, along with a metadata envelope containing the specs and other useful data.

In contrast, a consumer music CD is made up from .CDA format audio files, always at 16 bit/44.1K, stereo. Those tracks are intended for listening playback; not for incorporation into a professional soundtrack.

When you burn a CD for dailies, or to turn in professional recordings -- the technique is to drag and drop your .WAV or .BWF files from your hard drive onto a DATA CD or DATA DVD. These media are not intended to play instantly from your consumer audio CD player, nor from your consumer DVD video player. Rather, they are data storage devices (just like a flash drive is) that hold raw files. Those files could be word documents, excel spreadsheets, photos, or whatever.

Just that in this instance, they are files that just happen to be audio files! They are NOT tracks, ready to be played like an album.

So pay attention to your workflow when you prepare to make a data CD. You are not "ripping" music tracks onto a playable disk. You are transferring files to a data storage medium.

Make sure that you use a data disk, as opposed to an audio CD or video DVD. Make sure that you are adding files; and not adding "tracks".

As a film/video major, you need to know these things!