It has been said that if you were to ask 300 professionals to describe their idea of a perfect production cart, you would get at least 500 different answers!
The production cart is our portable workstation or work desk. It is where we sit, manage our recorders, video monitors, computers, and -- in the case of soundmixers -- operate our audio boards.
Sound/video carts need to be portable. They have to capable of rolling from the parking lot to the location, carried up stairs, and constantly re-positioned as lighting or cameras inevitably want to occupy whatever real estate we initially stake.
Heavy duty industrial handtrucks – properly modified –can serve as great carts and have been popular on film sets. Except that they are expensive, heavy, and not so easy to ship, unless you have a camera truck or large van-- along with a few strong bodies ready to assist in surmounting stairs and obstacles.
Introducing the new Rock N Roller Multi-Media Cart
Designed to meet the needs of independent filmmakers, Rock N Roller has combined the most requested features into a single, convenient cart package that includes our new 2-tier multi-media shelf system with the R12 all-terrain frame.
The Multi-Media 2-tier Workstation is a new accessory shelving system that readily mounts onto most of the Rock N Roller frames including the R12, R10, and R8 units.
Most film and video professionals prefer for the R12 frame for location use, because the frame comes with four all-terrain, never-flat, large diameter wheels (10x3"on the fixed axle; with 8x2" swivel casters) able to easily traverse dirt, grass, cables, and small obstacles. Small casters just don't cut it in the world of film and video production!
The Rock N Roller carts are very strong, yet weigh a whole lot less than conventional handtruck carts. The R12 cart only tips the scale at 34 lbs; and telescopes from 34 to 52 inches. Use the cart fully extended to haul up to 500 pounds of equipment cases to the location; then shrink it down and mount the shelf system for use in even the tightest sets.
The Multi-Media system consists of a main work shelf that measures 36x24. It is made of plywood, and fully carpeted. A slight lip all around keeps your stuff from rolling off. Weight is around 16 lbs. It easily bolts onto the two upright "handles" of the cart. A narrower hutch shelf measuring 36x10 mounts above the main shelf and can host wireless receivers, monitors, digital recorders, etc. The hutch is supported by a pair of C-shaped square tubes that easily slide into receptacles under both shelves. In storage mode, the tube supports can be attached sideways so as to fold flat against the underside of the hutch. No tools required. All together, the spacious main shelf and hutch only weigh in at around 22 lbs.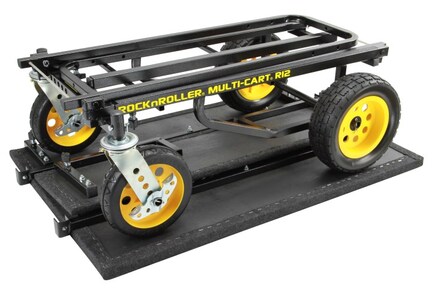 What I love about the Rock N Roller is its ability to quickly disassemble for shipping. The two upright sides fold flat, the lightweight frame telescopes, and the shelves can nestle under the frame to keep everything from rolling about in your vehicle.
The list price of the complete Multimedia Production Cart is only $419.
Existing Rock N Roller users may also order just the Multi-Media Shelf system separately for $99.95 or replace their older or smaller frame with the all-terrain R12RT for $319.95
Aftermarket Tweaks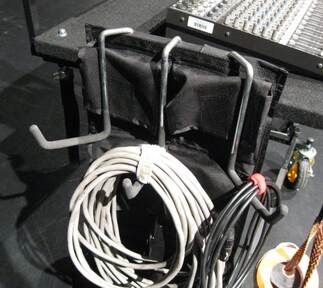 Of course, everyone is still going to want to customize it a little. On my cart, I drilled holes through the top of the handle to accommodate large (squarish "S") hangers that I found in the hardware store – for my cables. I also added a bunch of eye hooks under the main shelf so that I could snap on some hook & loop cable straps. A strip of adhesive backed hook & loop material runs underneath my hutch, and can accommodate a battery powered LED work light and other small accessories.
A trip to the car parts store located a nice canvas (seatback) apron full of pouches, originally intended to hang down from a seat headrest that can hang off of one of the uprights.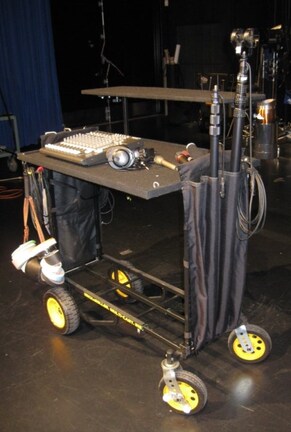 Karau Products in Pasadena CA manufactures a canvas Boom Apron specifically designed to slip over the upright handles of the R12: with pocket sleeves to accommodate 4 boompoles, antennas, or similar pole equipment. Price is only $59.95
Karau also plans to offer a full skirt that backs one length of the cart for privacy/security as well as external storage.