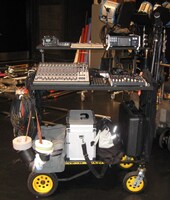 One of the most common questions that comes up is: "What kinds of equipment do you typically bring with you to a shoot? What is on your soundcart?"
The answer can vary, of course, depending on several factors, such as the nature of the shoot, the budget, the complexity of the shots, and the preferred or required digital workflow.
But for the sake of providing some sort of baseline for beginners, let's examine my typical load-out for a low budget, theatrical style, small project.
This content is for current subscription members. Please login below or subscribe.