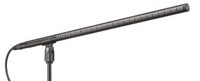 Every now and then, we go through our shelves of audio gear and find some gems that are too useful to just be taking up storage space. I have gotten older; and admit that these days, I rarely go out on commercials or major shoots. A little bit of cable network stuff just to stay in practice, but the mainstay of my income is from teaching and consulting. So I no longer need to maintain an excessive inventory of professional toys. (And if I do need something extra that I don't own, I can borrow it or rent it.)
On the same token, I realize that most of our readers are just getting started and have to watch their budget. So check out these goodies that EQE Media & Consulting Group is offering for sale....
Audio Technica BP4071-L condenser shotgun, extra tight pattern. Condition: USED, Same as New. Legally, we still have to call this mic USED since it was purchased and owned, but the mic still remains (like new) in the original box and was never deployed in the field.
Per Audio Technica's website, "At 21.22" long, Audio-Technica's new BP4071L is among the longest shotgun microphones on the market today. Originally developed at the request of broadcast professionals, this microphone boasts an extremely narrow polar pattern, excellent rejection from the sides and rear of the microphone, along with crisp, intelligible audio reproduction. It offers switchable low-frequency roll-off and a 10 dB pad, and comes generously equipped with a stand clamp, windscreen, and case."
If you were to purchase this microphone new, Audio Technica shows it at $999. I am selling mine for only $675, plus actual shipping charges. (or have us bill the shipping directly to your UPS or Fedex account)
---
AT815ST stereo condenser M-S long shotgun. (Not to be confused with the AT815b electret condenser shotgun, which was a monaural ENG type mic.) The AT815ST stereo model preceeded the currently sold BP4027; and allows the user to record audio via M-S technology so that the (editor) can later adjust the stereo field from either near-mono to wide spread stereo. Or, the mic can provide conventional L-R (aka X-Y) audio outputs, selectable for moderate or wide spread. What with all of the popularity of surround sound and VR audio, this is an excellent tool to add to your kit.
Per Audio Technica's website, "At 14.96" (380.0 mm) in length, the AT815ST is engineered for long-distance pickup in broadcasting and film/TV production. The AT815ST features internal matrixing innovations that allow for professional quality stereo audio with or without an external matrix. Its compact, lightweight design is perfect for camera-mount use. The AT815ST also features switchable low-frequency roll-off and independent line-cardioid and figure-of-eight condenser elements."
Condition: USED, excellent condition, nearly same as new. Complete with original inner storage case and original factory included accessories. This mic was never deployed in the field; used for display and demo at a few teaching events.
A new BP4027 sells for $850. Our AT815ST is affordably priced at only $549, plus shipping (or use your own shipping account).
---
Our webmaster has a pair of Samsung SyncMaster P2250 monitors, 21.5" in size, that he's looking to sell.
Perfectly good (he just recently upgraded), and comes with all cables.
Technical specs: www.cnet.com/products/samsung-syncmaster-p2250/specs/
---
An (older) colleague of ours is selling off his TASCAM HS-P82 multi-track timecode portable recorder. He only used it on a few features, works mainly in camera, and would rather put the money towards a boat or something. We know him well, and he takes good care of his stuff! Asking price is only $1400.
I still have (and enjoy) my own HS-P82, and they are great machines. Not as great as Sound Devices, but way more professional than Zoom. And TASCAM recently released some new firmware updates.
---
Send us an email if you are interested..... This email address is being protected from spambots. You need JavaScript enabled to view it.