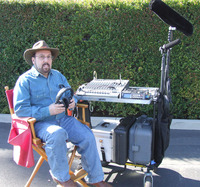 Fred Ginsburg CAS, Ph.D. is a highly experienced and award winning professional sound mixer whose decades of work includes features, episodic TV series, national TV commercials, corporate, and government. He is a member of the Cinema Audio Society, and the University Film & Video Assocation. He was formerly the president of the Equipment Emporium Inc, which was a major supplier of audio equipment and provided professional training to many organizations.
Fred holds doctorate, graduate, and undergraduate degrees in filmmaking; has published more than 180 articles; and wrote the "Guide to the Nagra 4.2 and Production Sound Recording" . He currently instructs at California State University, Northridge (CSUN); Chapman Universithy Dodge College; and has conducted seminars/workshops for over 100 organizations worldwide. He works as an instructor and consultant for Audio Technica, K-Tek, and Tascam.
Fred is president of the EQE Media & Consulting Group, which specializes in professional instruction and consulting and has offices in Los Angeles and Las Vegas.