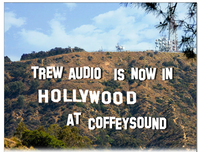 I opened my email today and read, much to my shock and surprise, that Trew Audio has acquired Coffey Sound! Now, that is not a bad thing for the industry; just very unexpected.
Coffey Sound sent out a very well done email announcement. It was concise and to the point, without getting into politics or history. Embedded within the message was a short video featuring John Coffey himself, announcing the merger or acquisition. Here is the email:
http://www.coffeysound.com/emails/trew/CoffeySoundV.html
We have some exciting news! Trew Audio, long recognized as a major presence in the film/video production sound industry, has purchased Coffey Sound! We are now the Hollywood location to Trew Audio's family that includes Nashville, Toronto, and Vancouver.
"While considering different options of expanding into Los Angeles, it became clear that acquiring Coffey Sound would create the ideal combination," explains Glen Trew, owner of Trew Audio.
Now that the strong points of both companies have come together as one, we can vastly improve the workflow of information and product lines in our industry to the people who we think about most -- you.
With the Trew Audio organization and the Coffey Sound staff you've grown to know, we are very pleased to continue to emphasize friendly helpful service with high spirits. So feel free to stop on by and hello... you'll be glad you did.
So I went over to the Trew Audio website to see what they had to report.... http://www.trewaudio.com/audioflow/2011/09/07/coffey-sound-a-trew-audio-company/
Coffey Sound, a Trew Audio company
By Jane Baxter - September 7, 2011
Last Friday, September 2nd, 2011, Trew Audio, Inc. acquired Coffey Sound, LLC. This comes as great news to all involved–especially you, the customer.
An L.A. store is the next logical step for the evolution of Trew Audio as a company and follows past successful launches of our Toronto and Vancouver stores. Our corporate intention is to provide you more opportunities to see, feel and hear the gear you need.
The different yet complimentary strong points of both companies, such as Trew Audio's ability to reach out to customers throughout North America and penchant for distance-based technical assistance combined with Coffey Sound's store and large rental operation for walk-in customers in the world center of film/video production, make an ideal combination.
In recent years, Coffey Sound has been owned by Telecorps Holdings Inc., which also owns media related companies primarily involved with post-production and unscripted (reality) television. A company with a niche as specific as sound for film and video production serves the industry best when driven first by a love and understanding of the craft and those who work in it, with the pursuit of profit being a necessary but distant second.
Glen Trew, President and Founder of Trew Audio, commented on Friday, "With Trew Audio's purchase of Coffey Sound, this Los Angeles business will — once again — be under an ownership that is focused entirely on sound for film and video production, and those who work in that profession. I believe this transition will come to serve with increased value our industry in general and our customers in particular."
John Coffey will stay on as Trew Audio's Vice President of Business Development from his office at the LA location. John's enthusiasm and knowledge of our industry as well as the great personal relationships he maintains with customers will be a boon for Trew Audio and the customers we serve. Long-time familiar face at the store, Fabi Allen, is now Branch Manager and Sales Manager of the LA location.
Coffey Sound's Founder, John Coffey had this to say on Friday, "I have always had immense respect for Glen and his business ethic. Over the years, Trew Audio was the company that really was Coffey Sound's major competition. Glen and I have always had the same vision – to earn your business by putting out education and promotions in ways that add value for you. We get it. Trew Audio and Coffey Sound don't just sell the gear, we open the box with you and our experts go through the manual with you. That style of business will continue."
Eventually the two companies will coalesce under the Trew umbrella and share a web-presence, e-commerce, accounting and sales promotions. We will strive to work hard over the next few months to make the changeover as seamless as possible for our customers while adding value. Coffey Sound's many activities such as education seminars, new product launch parties, Sound & Picture magazine, and its emphasis on friendly helpful service will continue!
We welcome your questions your comments. We truly intend to make Trew Audio your store no matter where in the world you are. We are listening.
Filed in Trew Corporate
So what is my take on all of this? To begin with, I am not sure how Telecorps Holdings fit into all of this. Did they sell their holdings in Coffey to Trew, or did John get his company back and then sell it? I don't know as of yet, but to be frank, it really does not matter to us. That is John's affair; and if he wants to tell us all of the details, great. And if he prefers to keep it all confidential, we should respect his privacy.
As for what this all means to us in the Sound Community? I see it as a good thing and a positive step. Coffey Sound is retaining their staff, so no one is out of a job (yet). Trew are good people, and have been in the production sound game for a long time. Never heard anything bad about them; and my personal dealings with Glen Trew have always been friendly and professional. He is a good man.
Overall, I think we are all better served with Coffey being owned by a longstanding sound company, then a conglomerate. By being part of a network -- rentals to east coast, west coast, or Canada will be much easier for those of us on the go.
My congratulations to John and to Glen. It sounds like a great merger of two audio companies, that ought to work to the benefit of all of us.