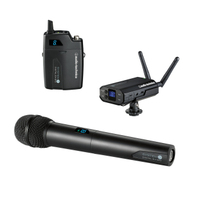 Audio Technica recently released their new System 10 wireless system in a portable, camera-mount version. Here is Fred Ginsburg's personal review along with links to his video tests.
Audio Technica recently introduced a camera-mount (portable) receiver to pair with their very successful System 10 wireless system. For too many years worth mentioning, many of us have been eagerly awaiting an affordable, but good quality, low end wireless system from AT for videography, education, public speaking, and other non-Hollywood applications. The Pro88's are long obsolete; and the 1800 series are in a higher price bracket and really didn't achieve high marks compared to the former U100 series that they replaced.
The engineers at Audio Technica have been working with board room communications in the 6-10 GHz bands with their very highly praised SpectraPulse technology. It was just a matter of time before they applied some of that to a basic wireless system. In utilizing the 2.4 GHz band, Audio Technica was able to avoid the over crowded and (commercially tenuous) UHF TV bands, while also applying some new digital transmission magic.
The first System 10's featured AC powered receivers for sound reinforcement applications. Reports from end users was very positive. This fall (2014), Audio Technica brought out a camera-mount version, suitable for video production.
Fred Ginsburg CAS, at FilmTVsound.com saw it for for first time during the 2014 AES Convention. An early production unit was recently acquired for personal field testing.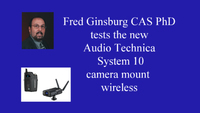 Here is the link to Fred's YouTube video showing some of the results. http://youtu.be/SnudYcodS0U
First, a little more about the technology...  to extract from the Audio Technica website:
---
Like all of the products in the System 10 digital wireless family, the Camera Mount provides three levels of diversity assurance: frequency, time and space. Instantaneous channel selection, sync and setup make the Camera-Mount extremely easy to use, while its digital 24-bit/48 kHz wireless operation provides the ultimate in sound quality and dependable performance. Also, as the receiver operates in the 2.4 GHz range, it remains completely free from TV interference at all times.

Available in handheld, lavalier and body-pack configurations, each System 10 Camera-Mount wireless system includes a camera shoe mount in addition to the receiver and transmitter.
Digital 24-bit/48 kHz wireless operation for ultimate sound
quality and dependable performance.
2.4 GHz range – completely free from TV interference
Automatic frequency selection for seamless, interference-free operation.
Three levels of diversity assurance: frequency, time, & space.
1/8 inch output jack with switch to select between TRS balanced
and unbalanced (dual mono).
Rechargeable internal battery on receiver.
Receiver and transmitter battery level displays.
Removable antennas.
Camera shoe mount.
1/8 inch stereo headphone jack with volume control.
Follow this link to the Audio Technica website for more information.
---
 Here is what Fred has to say about the new unit.
To begin with, the quality of the audio is extremely clear and clean. Even though it is not touted as a "professional grade" wireless, I would have no issues with using the resultant audio on any "Hollywood" or "broadcast" production.
Being up in the 2.4 GHz band is a major plus. At least for now, that part of the spectrum is very clean and usable, compared to the over-crowded UHF TV frequencies currently utilized by wireless mics (and soon to be shrunk yet again by our politically influenced FCC). The System 10 supports up to eight operating systems at once, and frequency coordination between multiple systems occurs automatically and seamlessly once each receiver/transmitter is "paired" with the press of a button. Trying to describe it makes it sound a lot more complicated than it really is.
The literature boasts a 100 foot operating range. Not a huge distance, but more than enough for a soundstage and most exterior set-ups. I first tested my unit in my house, and had no problems transmitting through interior walls, around computers, WiFi, and operating kitchen appliances. Next, I placed the transmitter next to a TV located at the front of my kitchen which faces out to the street. I walked the receiver through a couple of rooms and to the rear of the house, out the backdoor, and as far deep into the yard as the fence would let me. Not a single drop-out! Seventy or eighty feet, and that was transmitting through walls.The signal did not max out; I simply ran out of lawn!
For my next tests, I went out on the street, I walked past 2 houses, crossed the intersection diagonally, and continued a little ways further. I calculated the distance at around 75 paces, which for me works out at 125 to 140 feet. Not bad, and certainly better than the 1800 series usually performs.
I brought the system with me to the Cinema TV Arts Dept at California State University Northridge in order to shoot some more tests. (View and hear the video at http://youtu.be/SnudYcodS0U )
CSUN has a soundstage for the film program that is approx 50 ft by 75 feet. Camera and the System 10 stayed in the rear corner, while I moved around the entire space. Even while hovering near a laptop and the lighting dimmer board -- the System 10 performed flawlessly. And, yes, there is WiFi in the stage.
We went into the main corridor of the film/TV building (Manzanita Hall), which is dotted with electronic RFI emitters and WiFi routers (according to the department's Chief Video Engineer). The System 10 transmitted perfectly the entire length (approx 150 feet).
Heading outside onto campus, on multiple tests we acheived 150 to 250 feet. Although we did encounter the occasional minor dropout on one or two of our footpaths, the unit was always reliable up to 125 feet; and depending on the pathway, sometimes good past 200 feet. I included one of those walk tests, where we made it 220 feet before the signal began to cut out.
The aforementioned Video Engineer was curious about transmitting through walls, so I stayed inside the Corridor from Hell while he went outside and roamed around the exterior of the building. Signal held up nicely passing through just one exterior wall, but did drop out when he turned (still outside the building) 90 degrees  from the corridor and thus placed multiple interior rooms in our signal path.
The receiver weighs only four ounces, which is featherweight compared to other units. No problem stacking three or four of these next to a four-track mixer/recorder for simple reality or docu production. The lightweight receiver is also perfect for mounting on cameras, even those balanced for SteadiCam or similar stabilizing gimbals.
Out of the box, the receiver has a 3.5mm output jack that is switchable for either unbalanced dual mono or balanced TRS. In the unbalanced mode, you would use a simple 1/8 inch stereo male to 1/8 inch stereo male cable (included in the package) to send a dual mono signal (a "stereo" signal in which Left and Right are absolutely identical) to a DSLR or camcorder. I used it with my Zoom Q4 camcorder and everything sounded great.
To use the System 10 with a more professional input, such as a balanced XLR, all you have to do is to slide the output switch on the receiver to the right, which is the BALANCED position. You will need to acquire a 3.5mm Tip-Ring-Sleeve male to XLR adapter cable. These cables are readily available from third party vendors, but Audio Technica will soon be offering them as an official accessory as well.
Some of the Audio Technica retailers are offering the transformer balanced 1/8 inch mono plug to XLR adapter (CP8306) that was made for the Pro88. If you use one of these cables, use the unbalanced dual mono setting. I tried a CP8306 with my system into an ENG mixing panel and everything sounded good.
The System 10 transmitter takes two AA batteries. Transmitter battery level is monitored on the receiver, for your convenience.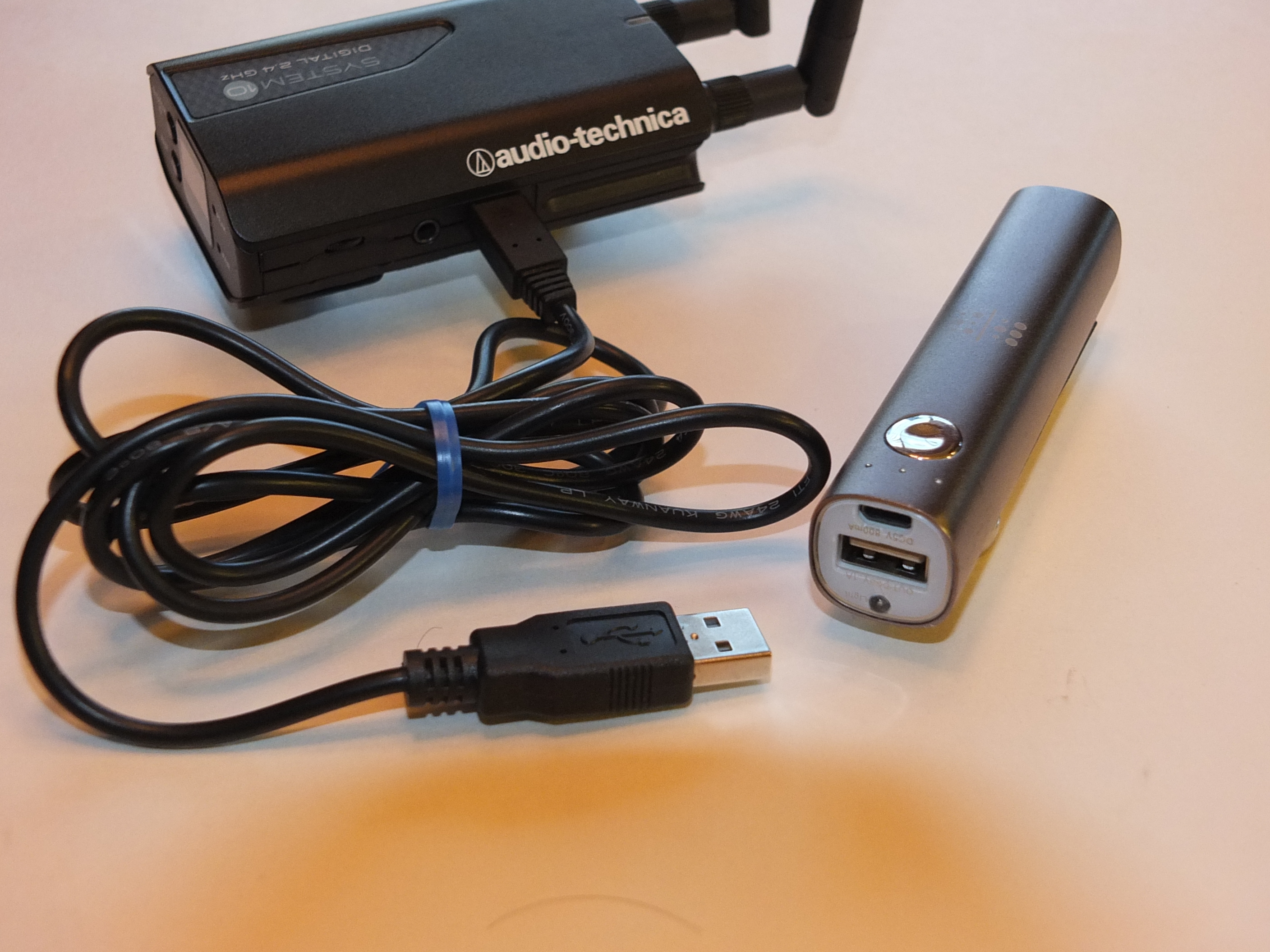 The receiver uses an internal rechargeable battery that is rated for up to 12 hours of use. It recharges just like a phone, via a USB charging device. You can operate the receiver from available AC, using the supplied USB cable and USB power adapter. If you are nervous about the receiver battery not making it entirely through the shooting day, you could also just plug the USB cable into a small USB battery pack -- just as you would your smartphone. Rechargeable USB external battery packs are available all over the net; I got mine at CostCo for fifteen bucks each.
 What is NOT included in the System 10 camera-mount package is the lavalier mic itself. I did my testing with my favorite lav, the AT899cW. That is the mic that I most use on film sets. Those mics are selling on the street for around $170.
If that price is too steep, I would also recommend the MT830cW (around $99) which performs very closely to the AT899. Of course, you could use any lavalier wired with the cW (hirose) connector, such as Tram and Countryman -- or any of the lower end Audio Technica lavs -- but I believe that you always want to get the best audio that you can.
I tell my students that wireless mics is a misnomer -- they are really just wireless CABLES. The transmitter/receiver does not replace the mic element, only the long cable linking talent to the mixing board! Good audio still demands a good performing microphone (lav) to capture the raw sound.
Another application of this portable wireless is for public speaking. I travel a lot, speaking to large groups of students or professionals, instructing them on Production Sound Recording. With my own System 10, all that I have to do is just unplug the existing mic from the podium and replace it with my self powered receiver using an XLR output cable. Then I am free to wear my own transmitter, equipped with a headworn mic, and not have to worry about moving around on stage, or demo'ing equipment with both hands. Since the System 10 is 2.4 GHz and hops around any used frequencies -- I do not have to worry about any nearby wireless or TV transmitters.
In conclusion, the new Audio Technica System 10 Camera Mount Wireless is a winner. Not only would I have zero hesitation to deploy these wireless on a "professional" shoot -- I look forward to it.