Here are some passcodes for FREE Exhibit Hall Registration for the upcoming National Association of Broadcasters Show 2018.
The National Association of Broadcasters (NAB) meets in Las Vegas, Nevada this coming April 2018. The convention floor exhibits are open beginning on Monday, April 7 and contrinue through Thursday, April 12. If you have never been to an NAB Show, you are missing the event of the year! NAB is without a doubt the largest film & video equipment show in the United States, and draws attendees from all over the world.
Average attendance is around 125 to 150,000! The exhibits occupy every square foot of the Las Vegas Convention Center, as well as spreading over to a few outlying venues.
There is too much to see; don't even imagine taking it all in. Instead, just concentrate on a handful of exhibitors. Many of the large manufacturers set up entire pavillions or small villages, and also offer free lectures -- so it is easy to spend half a day just in one place!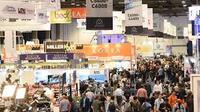 ---
Free Exhibits Only Pass by using any of these codes: EM02 (zero two)
Note that if you register after March something, 2018 -- the "free passcodes" will be charged a $50 late processing fee by NAB. So register ASAP before the deadline!
---
I strongly recommend that you go ahead and register early for the Exhibits pass, even if you are not sure that you will be able to attend.

Ditto, I suggest that you go ahead and tentatively book a room. If you are on a budget, there are lots of good deals to be had slightly off of the Las Vegas strip at the smaller casinos and motels. Make your reservations directly with the hotel chain; do not use the internet "travel sites". By booking directly, you will be able to cancel your reservation up to a couple days before the event (exact number of days varies by hotel policy, but is usually only 1-3 days in advance) without incurring any penalty nor sacrifice of your deposit.
Even though some of the "travel sites" claim to be able to refund your deposit, in practice I have found that to be a sometimes very difficult and frustrating experience! But I have never had any problems when dealing direct with the hotels; and they generally match the best prices that I see on the internet.
The NAB Show is a great place to network. Don't be shy; turn around to the people standing or sitting next to you at a booth and introduce yourself. Exchange business cards.
Two things that you have to realize about most people who attend the show.
One, they are introverted and probably are by themselves or with only a friend. They welcome the chance to meet other people. (Note, I am referring to professional business networking, not picking someone up for a date or romantic encounter -- there are bars and clubs for that!)
Second, except for us locals who consider Las Vegas as our extended backyards, most of the attendees are flown in and subsidized by their respective companies. That means that they are pretty high up on the ladder, and carry a lot of importance back at their office or studio. These are people worth getting to know.... perhaps as future employers, or at least as future contacts and source referrals if you ever have to film in their neck of the woods.
This year, as always, I will be at NAB and instructing in the Audio Technica booth. We will be offering continuous free workshop/seminars, demo's, and Q&A on various aspects of location sound recording for film & video, so stop by and say hello.